We would like to invite you to spend an unforgettable New Year's night at the Akademia Restaurant. This year you will not miss such great dishes as a nori slate in teriyaki sauce or a duck breast with roasted chestnuts and quince sauce. Our professional crew headed by the great Chef Krzysztof Kowalski will take care of your comfort. We provide a great atmosphere, exquisite dishes and fantastic cocktails.
You are welcome to book your table on 18.00 * and 21.30. The cost of dinner is 250 PLN per person plus 12.5% waiter service, the menu consists of a starter, soup, main course, dessert and a glass of champagne. For our New Year's Eve supper, we accept 100% prepayment (in cash, by card or by bank transfer).
* Because of the huge interest, we decided to introduce three-hour reservations to make the table available to the next guests. Thank you for your understanding.
We will be pleased to spend this special evening with you!
If you are interested, please make a reservation:
Reservations are accepted only by e-mail.
e-mail: info@restauracjaakademia.pl
*The guarantee of booking the place of that day is the payment of PLN 250 per person
*Below are the transfer details and account number
*In the title of the transfer, please provide the name and surname of the reservation and the number of people
*Please confirm the transfer by e-mail:info@restauracjaakademia.pl
*In case of cancellation, please inform us via email info@restauracjaakademia.pl at least 5 days before the event.
*After payment, we cannot refund your account, card or provide refund in cash. The refund can only be made in the form of a voucher to be used in Akademia Restaurant
Transfer details:
Name:  Nostra Sp. z o.o.
Address:  Różana 2/61 Street , 02-548 Warszawa
IBAN account number:  PL 25 1160 2202 0000 0002 2345 0427
SWIFT bank code:  BIGBPLPW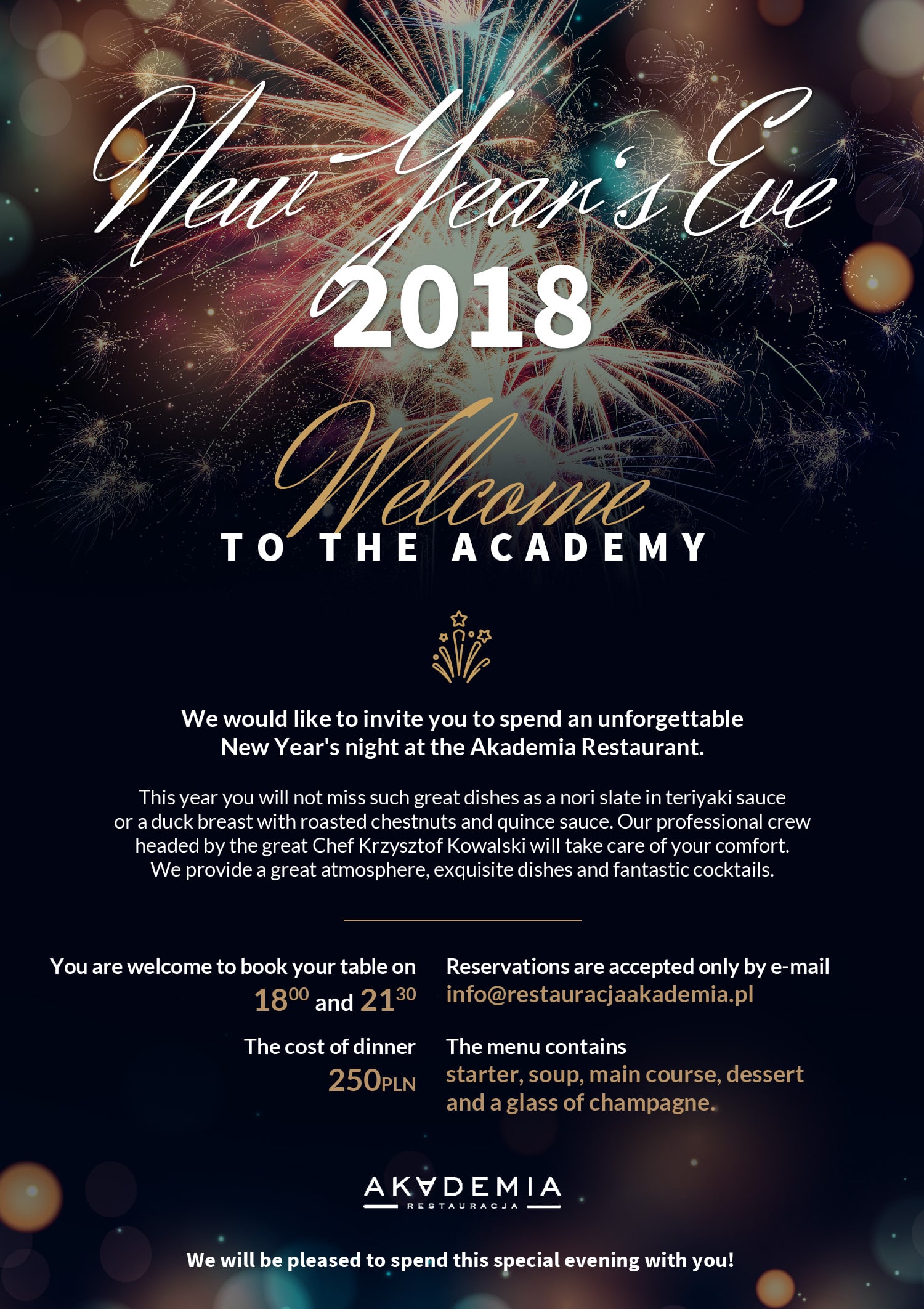 [heading subtitle="New Year's Menu"]
[row cols_nr="2″][col size="6″ class="island"]
STARTERS
Tartare with smoked red sirloin with truffle mousse
Pate of rabbit meat and celery, with jelly from mead
Carpaccio of tuna marinated in 'kafir leaves and lemongrass, with algae and pomegranate salad
Tomato tartare with olive oil in the aroma of truffles
Stewed snails in a champagne emulsion with vegetable spaghetti
SOUPS
Beetroot cream with goat cheese powder
Bouillabaisse with marine fish/sour cream
[/col]
[col size="6″ class="island"]
MAIN DISHES
Risotto with fresh truffles
Nori choppers in teriyaki sauce with sesame-flavoured potato
Halibut with soba pasta in the lime sauce
Duck breast with roasted chestnuts and quince sauce
Steak of seasoned beef tenderloin with scallops and gratin with turnip and topinambour
DESSERTS
Marshmallow with chocolate mousse
Millefeuille with raspberries and vanilla sauce
Chocolate cake with pralines
[/col][/row]