Passion
and original taste
Being or living in the capital, we often wonder "where to eat well" counting on the fact that the restaurant in Warsaw will have this "something". This "something" that attracts our attention from the very beginning and makes you want to stay in and try the dishes served. This is Akademia – the best restaurant in Warsaw with the tastiest and most interesting dishes in Mokotów.
Akademia is often referred to as the best restaurant in Warsaw. It is a place that arose from passion and love for cooking. The dishes served in it are a combination of tradition and today's flavors. The menu is very rich, ranging from starters and ending with desserts. As the dishes we serve are always made of fresh ingredients of the highest quality, you can also choose seasonal dishes in the menu. This means that these dishes contain ingredients that are characteristic and available at a given time of the year.
The quality of the dishes served to our customers is supervised by a fantastic chef. The European cuisine isn't strange to us and we are not afraid of combining different flavors and discovering what is still unfathomable by others. Our cooks, with the chef at the forefront, bravely compose and experiment, are inspired by nature, and they give new charm to traditional recipes. All our staff is a qualified and experienced team of talented and passionate cooks, friendly bartenders, catering specialists and managers. Everyone, like one family, cares about the quality of the dishes and the image of the restaurant.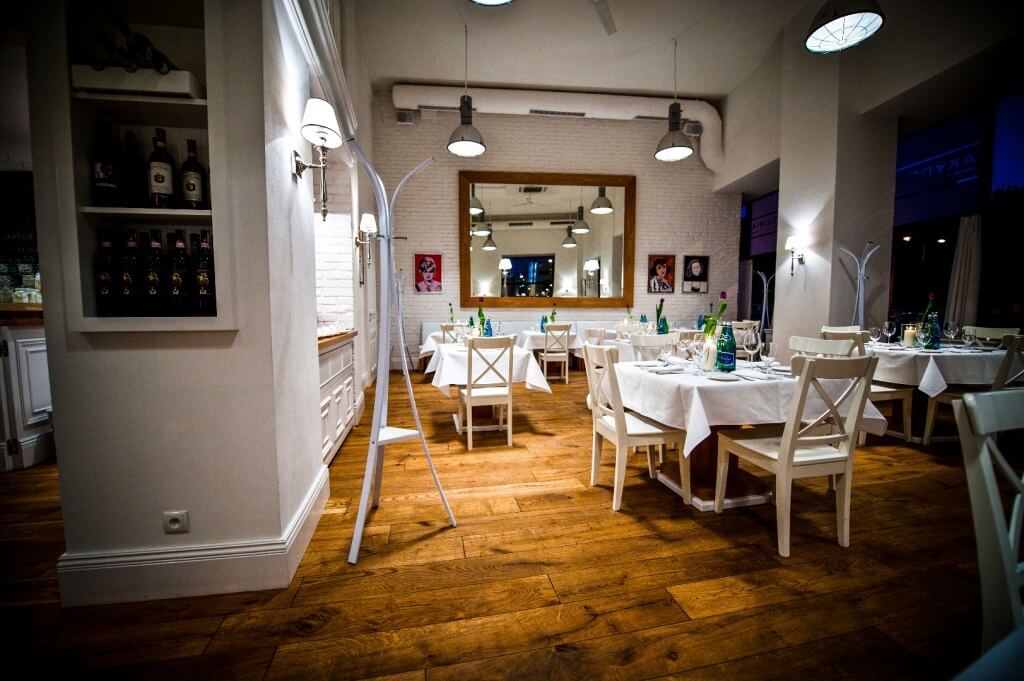 Why Akademia
is the best restaurant in Warsaw
At Akademia, the taste counts first and foremost. The opinion of guests and how they feel in our premises are important to us. The best restaurant in Warsaw, regardless of the time of year, day or hour, always places on the tables of its customers dishes prepared from fresh ingredients and spices. We think that frozen food only spoils the taste of our excellent dishes, so we do not use them. The atmosphere that prevails in our restaurant is equally important. We would like the client, when entering and spending some time in this place, to say "I felt good here", "I like it here, I will definitely come back" or "this is the best restaurant in Warsaw" without looking at dishes, because we know that it will taste you.
We have often found out that the taste of the dishes, the homely, friendly atmosphere of the premises with an interesting design is not everything. People expect for a nice change of the usual meal, parents dream of eating dinner, without worrying about their children, who want have fun in every place, we know how important the holidays are for you and Polish occasions perfect for celebrating. Akademia accomodates its guests by organizing interesting events such as mother's day, father's day, Friday vodka academy, or family weekends. This is probably the best restaurant in Warsaw for all meetings or family celebrations, business meetings and romantic dates.
Catering
is not just a delivery
The best restaurant in Warsaw is not just eating on the spot. Akademia aims to satisfy every client, also in the case of special celebrations that take place outside our restaurant. Catering is dishes from our menu prepared to be transported throughout Warsaw and the surrounding area. Our chef's dishes are known throughout the capital and have a group of their devotees. As we have already mentioned, catering is not only food for delivery, but it is also our time and advice for you, how to nice and tasty prepare a special occasion party. We help and organize delicious food for special, corporate and family events. We care about the comfort and convenience of our clients and guests in every situation.
Akademia
is an extraordinary place
Akademia is the best restaurant in Warsaw, not only in family and partner style. This place is visited by many different show business stars working in the largest fashion and culinary magazines. Akademia is always full of guests, which proves the good taste of served dishes and excellent atmosphere. You will feel like a star with us!
Come and see our amazing menu, where you will find traditional Polish cuisine, an interesting and unusual combination of flavors and dishes with seasonal ingredients. Often our chef was praised by the guests for great ideas that were included in the menu.
An unusual atmosphere and great taste – you will not find it anywhere else!